written by Alice Seba - the Internet Marketing Sweetie
Simple & Straight to the Point...
If you have been searching for simple and affordable resources to improve your internet marketing skills, you can get everything you need with Alice Seba's Sweetie Saturday Reports.
Each one highlights a new skill or activity, giving you a simple and actionable plan that you can use right away to improve or start completely new in any area to improve your internet business.
Grow Your Own Business With Each Report
One of the biggest problems with many information products is that I find that there is so much to wade through and figure out that often I never get around to doing them. At some point it all becomes mumbo jumbo.
With this collection, there is no wasted time in reading through fluff and filler and things that you don't need to know.
You get a bite sized piece of internet marketing advice that you can take one month at a time, growing your own business with every one.
Written by Alice Seba, an internet business success pioneer… ok, she's not that old... but she was the first internet marketing mom who caught my eye, and has continued to keep my attention over the years with straight to the point and easy to understand direction.
When in doubt, I find myself asking…
What would Alice do?
Written in Alice's direct style, each report will save you time and help you to increase your bottom line.
Affordable and doable, complete your internet business library with a new report every month.


Don't Miss a Single Issue...

Each report comes as an instant download in PDF format with an MP3 audio that you can download as well. (a few of the earlier reports don't include audio - you get those at a reduced price.)
If you'd like to be informed when a new Sweetie Saturday Report is added, you can easily sign up for notifications using the form on the top sidebar.
Check out our growing list of Sweetie Saturday Reports and start growing your collection.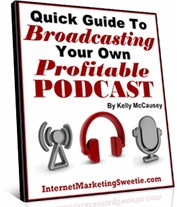 Quick Guide to Broadcasting Your Own Profitable Podcast
BONUS - MP3 Audio included - order for 12.99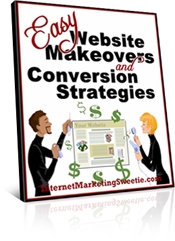 Easy Website Makeovers and Conversion Strategies
BONUS - MP3 Audio included - order for 12.99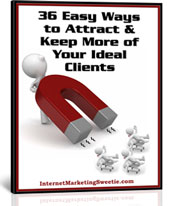 Attract and Keep More of Your Ideal Clients 36 Easy Ways...

BONUS - MP3 Audio included - order for 12.99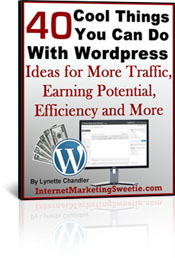 Wordpress - 40 Cool Things You Can Do
BONUS - MP3 Audio included - order for 12.99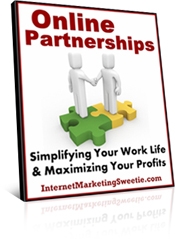 Online Partnerships - Simplify Your Work Life & Maximize Your Profits
BONUS - MP3 Audio included - order for 12.99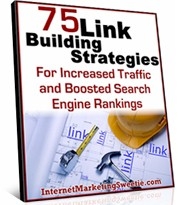 75 Link Building Strategies for Increased Traffic and Boosted Search Engine Rankings

BONUS - MP3 Audio included - order for 12.99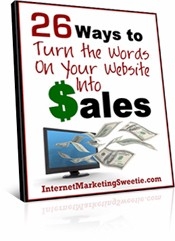 Turn Your Words Into Sales - 26 Ways

BONUS - MP3 Audio included - order for 12.99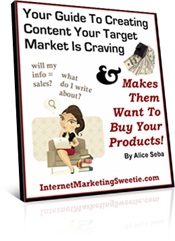 Create the Content Your Target Market Is Craving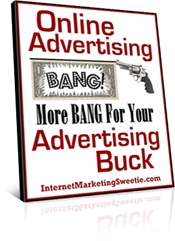 Online Advertising - How to Get More Bang for Your Advertising Buck
BONUS - MP3 Audio included - order for 12.99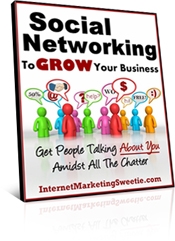 Social Networking to Grow Your Business
BONUS - MP3 Audio included - order for 12.99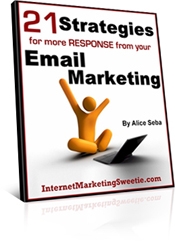 Email Marketing - 21 Strategies to Get More Response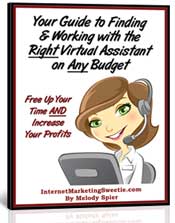 Your Guide to Finding and Working With the Right Virtual Assistant on Any Budget
BONUS - MP3 Audio included - order for 12.99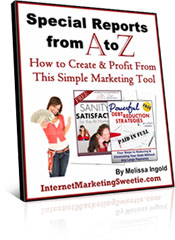 Special Reports from A to Z - How to Create and Profit from This Simple Marketing Tool
BONUS - MP3 Audio included - order for 12.99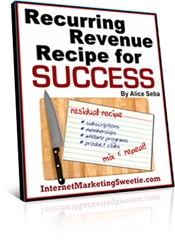 Recurring Revenue - Recipe for Success - Mix and Repeat...
BONUS - MP3 Audio included - order for 12.99
FOR THE INTERNET MARKETER IN YOU...
WONDERING HOW I AM ABLE TO MAKE YOU SUCH AN AMAZING OFFER?
How am I able to offer you such valuable information by Alice Seba, one of my primary influences and mentors in Internet Marketing?
I'm a member of the Sweetie Saturday Report Club.
Every month I receive a new Sweetie Saturday Report that I can use myself AND I also receive resell rights.
If you'd like to do the same, you can.
With your membership...
get access to the private Sweetie forum where you can hang out and ask questions to Alice and the other members
receive the exclusive Essential Biz Notes - a supplement to the guides written by Alice. I enjoy them as much, or maybe even more than the report!
get your Monthly Sweet Cheat Sheet
BONUS - "27 Sure Fire Ways to Build Your Mailing List" AND "Online Marketing in Tough Economic Times: 148 Free & Nearly Free Strategies for Promoting Your Internet Business."
get all files and downloads to resell each report on your own site (some restrictions apply)
or become an affiliate and put the whole thing on auto pilot.
Get Your New Report Every Third Saturday.
Sweetie Saturday Report Club
You can get it all for 16.97 per month.


OR TRY IT FOR A BUCK!
Still wondering whether to take the plunge? You can check it out for a month for $1.
USE THE SWEET RECESSION-PROOF COUPON...
Just type in the coupon code…
I am recession proof
and you are in business.
I hope to see you in the forum.
Don't forget to pop in and join the chit chat with some of the most talented internet marketing mom's on the net!
If you have any questions or comments, you can shoot us an email at support@i-shine.org and we will be glad to assist you.
It's a bargain at 16.97 a month.
Heads up... Alice is continually adding perks, now is the time to lock in before the price goes up.